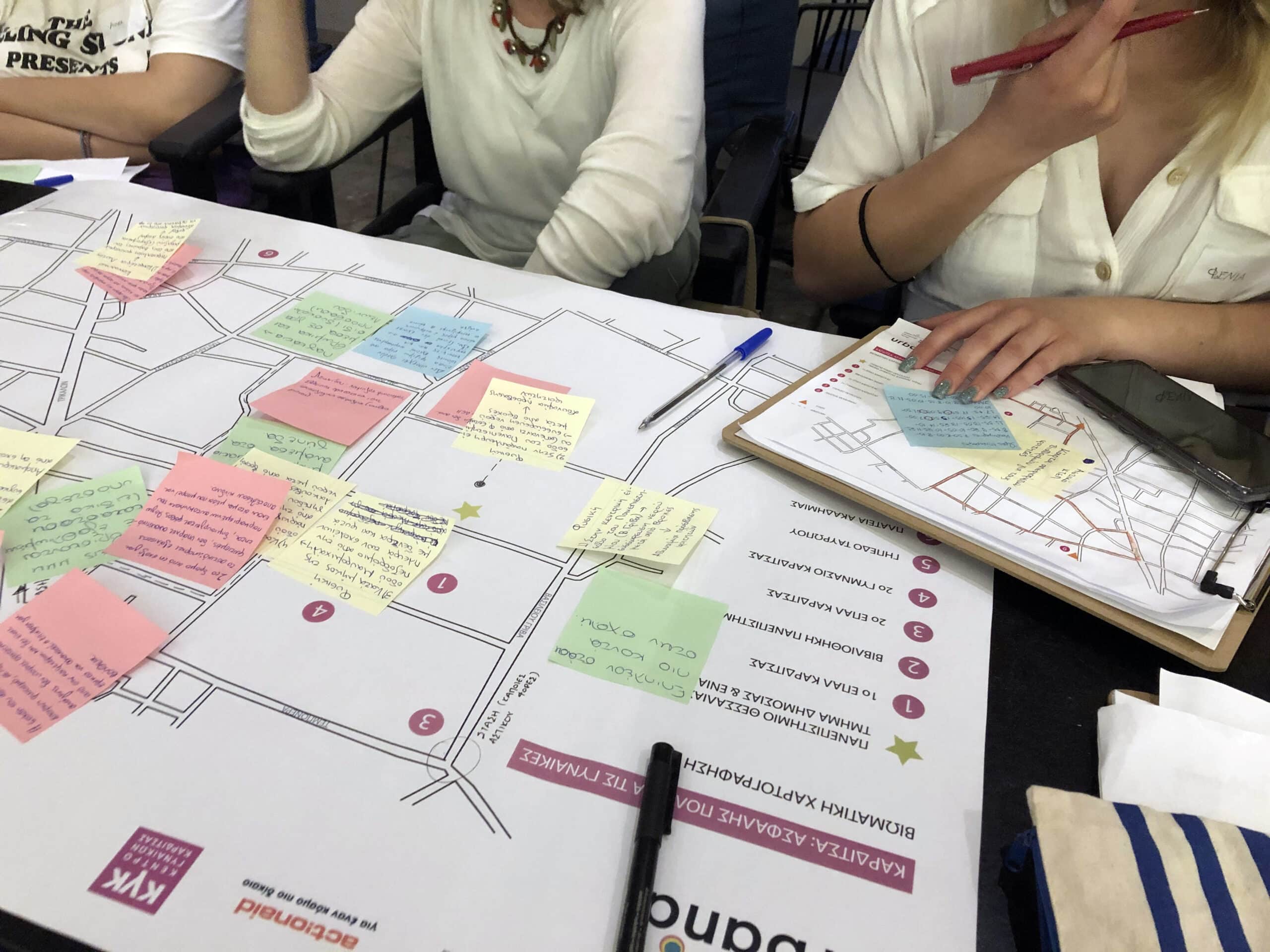 Following the projects Urbana actualises in the public space, we once again visited Karditsa, where we designed and implemented an exploratory walk of experiential mapping through the gender perspective with the participation of students of the Department of One Health of the University of Thessaly.
The exploratory walks are a methodology of participatory research that provides us with rich data about our everyday and every night experiences in the city. During the exploratory walks, we provide the tools for the participants to map the routes they take and the public spaces they use in their day/nightlife in their city. Using specific urban quality indicators (i.e., security, accessibility, vitality, urban infrastructure, gender representation), we record their experiences, needs, and desires from the public space.
I need to know that my female classmate leaves class and she's safe!
The different experiences that are highlighted through the exploratory walks are illuminating. Specifically, a young woman claimed that to go out of her house at midnight without getting harassed, "she dressed like a man" and wore her mask, which she managed. She stated, "I wish I were a man".
Despite the rainy weather, the exploratory walk took place in the surrounding area of the University of Thessaly facilities, where the dorms and the library are. These are some of the locations the students use daily. 
The participants, taking into consideration specific urban quality indicators, like security, accessibility, and vitality, designated the problems they detected in the area, like the almost utter lack of lighting and the feeling of insecurity that accompanies it, the non-consistent bus schedule from/to the city centre, etc. 
After the walks, we collect all the notes and suggestions, add our own experiences, and design a map of the area in the form of a report, like the one in the photo, that includes all the above. In the end, we share the report with our collaborators and the participants of the walks, enrich it even more, and forward it to the local authorities to inform them to take action for the specific areas we studied.
Location: area around University of Thessaly, Karditsa
Period: June 2022
Participants: students from the Department of Public and One Health of the University of Thessaly
The project was implemented in collaboration with ActionAid Hellas and the Women's Center of Karditsa for the project Gender Responsive, Accountable, and Transparent (GREAT) Budgeting.